The 98 Alcan "Virtual Route"
A day-by-day description of the 1998 Alcan 5000 itinerary
---
Participants will have already arrived from their home states or countries and finished preparing their vehicle for the trip. The afternoon might be filled with some last minute shopping in Seattle, The Emerald City, a quick lunch nearby at Redhook or Cafe Veloce, or a cruise past Bill Gates House, Lake Washington's most popular construction site. Teams will gather at 8pm at Bothell's Wyndham Garden Hotel for a reception and final registration details.
Saturday August 29 (Day #1)
From the Wundham Garden, the rally will start north on Interstate 405. Soon leaving the Interstate behind, rallyists will wind their way through the Cascade mountain foothills before crossing into British Columbia, Canada, near Abbotsford. With a long drive ahead, we download the free Super, Natural British Columbia Screen Saver and check out some of the scenery to come.

Joining Canadian Highway 1, the route winds north through the rugged Frasier River Canyon. At Cache Creek the rally finally joins Highway 97 North and the rolling prairie of BC's Cariboo Country. One final TSD out of Williams Lake, and as evening falls we enter Quesnel . This first day has covered 540 miles in about 12 hours.
Sunday August 30 (Day #2)
Departing Quesnel, we take an alternate route on the Old Prince George Highway for another TSD section, then rejoin Highway 97 North. Time for a quick burger and gas in Prince George, then we push on quickly while checking the Central Interior of British Columbia Weather Forecast. From Prince George the route turns west on the Yellowhead Highway, turning off at Hazelton for a late afternoon tour of 'Ksan Historical Village. This area of BC is the "totem pole capital of the world", and 'Ksan features a carving shed with native artisans at work.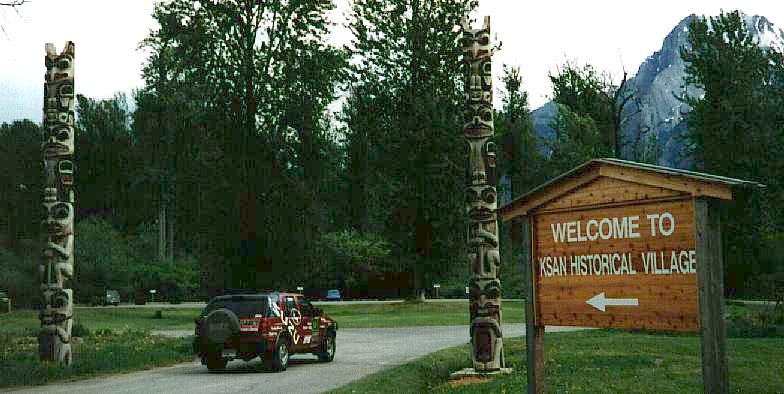 From here we start a long TSD on forest roads, then join Highway 37 north. At Medzian Junction we head west again to the twin costal towns of Stewart, BC and Hyder, Alaska. Hyder has a population of 100, and the title of the "Friendliest Little Ghost Town in Alaska". The dinner menu features halibut, the local drink is Alaskan Amber, and all transaction are in Canadian currency since the only bank is in Stewart.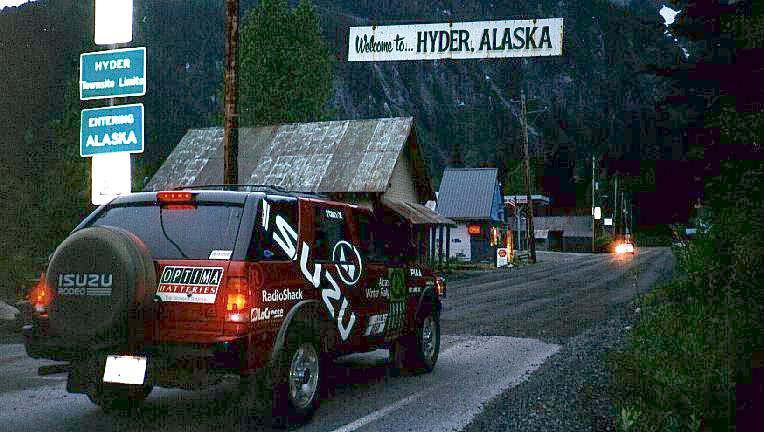 Monday August 31 (Day #3)
We depart Hyder via a TSD that ends with a great photo opportunity at Bear Glacier. From there the route returns south and west to Prince Rupert, BC. We'll arrive by early afternoon with plenty of time for shopping and dinner before departing at 9pm on the Alaska Marine Highway System ferry M/V Matanuska.

Tuesday September 1 (Day #4)
This day will be spent on the 408 foot M/V Matanuska, with stops in Ketchikan, Wrangell, Petersburg, Juneau, and Haines.
Wednesday September 2 (Day #5)
We depart the ferry at 7am in Skawway, Alaska. The stores here cater to the cruise ship and ferry schedules, so we'll have time for shopping or breakfast before departing town with a TSD near the old Chilkoot Trail. After this, a stop for lunch and some sightseeing (Yukon Picture Library) or shopping (Yukon Artist Jim Robb) in Whitehorse before a final TSD for the day and another 300 miles north to Dawson City. After checking in at the Eldorado Hotel, we spend the evening planning activities for the "off" day here on Thursday.

Thursday September 3 (Day #6)
A day of optional activities in the northern Yukon! Some possibilities are:
Arctic Circle round trip via the Dempster Highway
Goldfield TSD & tour.
Other local attractions. Visit Midnight Dome, the sternwheeler graveyard, the Gaslight follies, Diamond-Tooth Gertie's gambling hall, etc.
An 11-hour round trip on the Yukon River to Eagle, Alaska via a 45' jet boat. (One can also combine a 1-way jet boat to Eagle with a 30 minute return by air charter..).
Friday September 4 (Day #7)
This will be the first of 2 fairly long days. Today we'll drive from Dawson City to Watson Lake with a brief stop for lunch in Whitehorse.
Saturday September 5 (Day #8)
A 600+ mile driving day from Watson Lake through the highest and most rugged part of the Alaska Highway, past Summit Lake, Muncho Lake and the Liard River. The day ends with a long after-dinner TSD out of Fort Saint John through the Kansas-like rolling hills of the Peace River Region. A photo stop in Dawson Creek at the Alaska Highway "Mile 0" marker, and we head for our hotel with some lasting impressions of this northern farmland Scenes from the Peace Region.
Sunday September 6 (Day #9)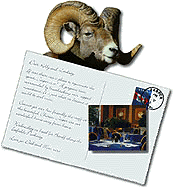 An early start from Dawson Creek, heading south to Jasper. The highlight of this trip is the new Bighorn Highway, a new paved route through some great scenic, remote, and empty country (the 1987 Alcan made it's way northbound here through 150 miles of mud and gravel).
The event will finish at the beautiful Chateau Jasper about 2pm local time, with an afternoon to catch some local shopping and sights before the 8pm awards banquet.
---