2002 ALCAN 5000 RALLY: August 14 - 22
Seattle, Hyder, Skagway, Yellowknife, Dawson Creek, Jasper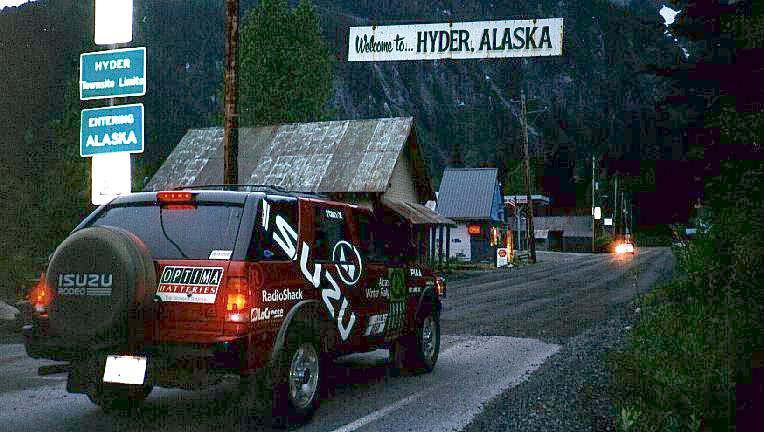 ROUTE: The 2002 Alcan will start near Seattle and finish 4,500 miles later in Jasper, Alberta. The route will include Hyder, Skagway, Yellowknife, and Dawson Creek, plus many of North America's most scenic and remote roads such as the Alaska, Klondike, Liard, MacKenzie, and Bighorn highways. Though challenging, it will not include any all-night drives.
HISTORY: The 1984 Alcan 5000 Rally had 23 starting cars, 22 at the finish 4,700 miles later, and was at that time the longest rally ever conducted in North America. Looking for new challenges, organizers began alternating with a winter Alcan in 1988. The 1990 Alcan became "the world's longest, coldest winter rally" at -58 F and 6,275 miles. This 2002 event will be the 15th Alcan event and 9th summer Alcan. 2002 will also include a motorcycle class for the first time: this group will be limited to 50% of the entry field, but will be a North American first for an event of this type and add an interesting new dimension!
CONCEPT: A modern event based on the original concept of rallying as a grand tour, motoring adventure, and gentleman's sport (historic examples include the Monte Carlo [1911], Mille Miglia [1911], and RAC [1932]).. Over 90% of the route is composed of touring sections with a reasonable elapsed time for each. Scoring takes place in 10 to 20 mile "regularity" sections, with a penalty for proceding too fast or too slow.
VISION: A competitive event that rewards experience, good judgement, consistency, reliability and rescourcefulness. A "level playing field" that lets private and factory teams compete on even terms.
ENTRANTS: Mostly private, some professionals. Factory teams have included Audi, BMW, Ford, Isuzu, Jeep, Mazda, Oldsmobile, Range Rover, and Subaru. The more important requirement is common sense and driving experience. Some teams have also competed in related events like the Australian Safari, Baja 1000, La Carrera Panamericana, One Lap of America, Mille Miglia, Monte Carlo, and Paris-Dakar, but novice rallyists are also common on the summer Alcan
ENTRY FEE: $2500 per team, including all accommodations for two people ($2250 for motorcycles). A third driver is $500.
PAST WINNERS:
1984 Tim Paterson/Douglas Paterson                      Mazda RX7
1985 John Buffum/Tom Grimshaw/Paul Choiniere            Audi 5000 CS Quattro
1986 Gene Henderson/Mike VanLoo                         Subaru RX 4x4
1987 Ken Maytag/Glen Bjorkman/Steve Richards            Audi 5000 CS Quattro
1988 Ken Maytag/Glen Bjorkman/Steve Richards            Audi 5000 CS Quattro
1989 Tim Paterson/Penny Thomas                          Porsche 911
1990 Gene Henderson/Ralph Beckman                       Subaru Legacy Wagon
1991 Ken Knight/Bob Dart                                Subaru SVX
1992 Ken Knight/Greg Lester                             Subaru Legacy Wagon
1993 Russ Kraushaar/Satch Carlson                       BMW 2002ti
1994 Paul Dallenbach/Johnny Unser/Tom Grimshaw          Isuzu Rodeo
1996 Paul Dallenbach/Johnny Unser/Tom Grimshaw          Isuzu Rodeo
1998 Walt Kammer/Jackie Adams                           BMW 325ix
2000 R. Dale Kraushaar/Larry Richardson/Paul Eklund     Subaru Impreza RS
ORGANIZERS: Rainier Auto Sports Club Inc, a non-profit group of auto enthusiasts. Chairman Jerry Hines has rallied since 1965 (in six countries), and been a key organizer for over 30 national and international rallies.

INQUIRIES or COMMENTS:
Jerry Hines, Chairman
Alcan 5000 Rally
9805 NE 116th St, #180
Kirkland, Washington 98034
jhines@eskimo.com
(425)823-6343
(425)823-6307 Fax
www.alcan5000.com

OK, here's the switch

---
MORE INFORMATION...
"Virtual Tour" of the 2002 route - A day-by-day event description, with links to Web sites in and about the North! Back to the Alcan5000 home page...

NOTE: For best printed results, set your fonts preference to 10 or 11.