The 2002 Alcan "Virtual Route"
A day-by-day description of the 2002 Alcan 5000 itinerary
---

NOTE: Updated 3-19-2002. Dates are final, some accomodations could change

Participants will have already arrived from their home states or countries and finished preparing their vehicle for the trip. The afternoon might be filled with some last minute shopping in Seattle, The Emerald City, a quick lunch nearby at Redhook or Cafe Veloce, or a cruise past Bill Gates House, Lake Washington's most popular construction site. Teams will gather at the Woodmark Hotel at 8pm for a reception and final registration details.
Wednesday August 14 (Day #1)
From the Kirkland area, the rally will start north on Interstate 405. Soon leaving the Interstate behind, rallyists will wind their way through the Cascade mountain foothills before crossing into British Columbia, Canada, near Abbotsford. With a long drive ahead, we download the free Super, Natural British Columbia Screen Saver and check out some of the scenery to come.

Joining Canadian Highway 1, the route winds north through the rugged Frasier River Canyon. At Cache Creek the rally finally joins Highway 97 North and the rolling prairie of BC's Cariboo Country. One final TSD out of Williams Lake, and as evening falls we enter Quesnel . This first day has covered 540 miles in about 12 hours.
Thursday August 15 (Day #2)
Departing Quesnel, we take an alternate route on the Old Prince George Highway for another TSD section, then rejoin Highway 97 North. Time for a quick burger and gas in Prince George, then we push on quickly while checking the Central Interior of British Columbia Weather Forecast. From Prince George the route turns west on the Yellowhead Highway, turning off at Hazelton for a late afternoon tour of 'Ksan Historical Village. This area of BC is the "totem pole capital of the world", and 'Ksan features a carving shed with native artisans at work.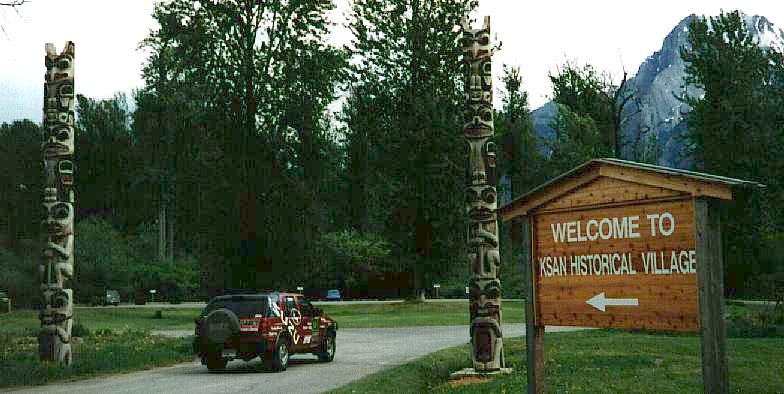 From here we start a long TSD on forest roads, then join Highway 37. At this point there are two oiptions:
1) "Cruise" entants turn south on 37, then west on Hwy 16 to Prince Rupert, BC. We'll arrive with time for shopping, dinner, and a night's rest before departing at 7:45 am on the Alaska Marine Highway ferry M/V Kennicott.
2) The driving route heads north on Highway 37 then west at Medzian Junction to the twin costal towns of Stewart, BC and Hyder, Alaska. Hyder has a population of 100, and the title of the "Friendliest Little Ghost Town in Alaska". The dinner menu features halibut, the local drink is Alaskan Amber, and all transaction are in Canadian currency since the only bank is in Stewart.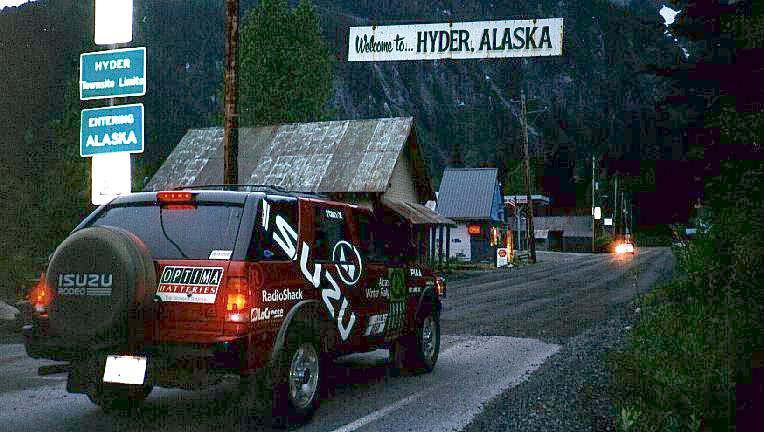 Friday August 16 (Day #3)
Cruise entrants will spend the day on the water, while the land route departs Hyder via a TSD that ends with a great photo opportunity at Bear Glacier. The land route then heads north up the Cassiar Highway, and west on the Alaska Highway to Whitehorse for a well-deserved overnight stop at the High Country Inn.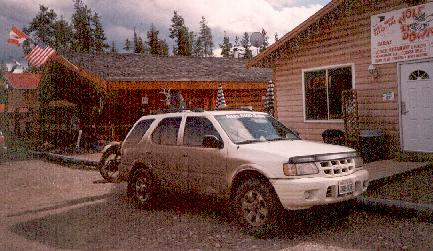 Saturday August 17 (Day #4)
This day will be again consist of two optional routes:
1) "Cruise" entrants will spend a second day on the 382 foot M/V Kennicott, with stops in Ketchikan, Wrangell, Petersburg, Juneau, and Haines. (For information on these and other Alaska communities, see www.alaskainfo.org). Scheduled arrrival in Skagway is 4:15pm, with just enough time for shopping, dinner, and a night at the historic Golden North Hotel.

2) The land option will do a morning TSD, then an easy drive from Whitehorse to Skagway with time for sightseeing (Yukon Picture Library), shopping (Yukon Artist Jim Robb) and lunch. The cycle route to Skagway will include a 1-track tour designed by Jamie Gleason, of Arctic Motorcycle Tours and Rentals.
Sunday August 18 (Day #5) ("If it's Sunday this must be the Alaska Highway")
All teams will depart in Skagway, Alaska about 7am via White Pass and the Klondike Highway. The route then heads east on the Alaska Highway for a long drive to Fort Nelson. This will be 14-hour day covering about 650 miles, including the highest and most rugged part of the Alaska Highway past Summit Lake, Muncho Lake and the Liard River. Our overnight stop is the new Woodlands Inn.
Monday August 19 (Day #6)
A long drive north to Yellowknife! Teams will depart via the unpaved 244-mile Liard Highway to the junction with the old Mackenzie Route, then another 215 miles (mostly paved) to Yellowknife, the new "Diamond Capitol of North America" and capitol of the Northwest Territories.

Tuesday August 20 (Day #7)
This will be an "off' day free for sightseeing, fishing, hunting, helicopter tours, or just relaxing in this unique town on the shore of Great Slave Lake. Details on local activities to follow, entrants are being mailed a 26 page visitor's guide...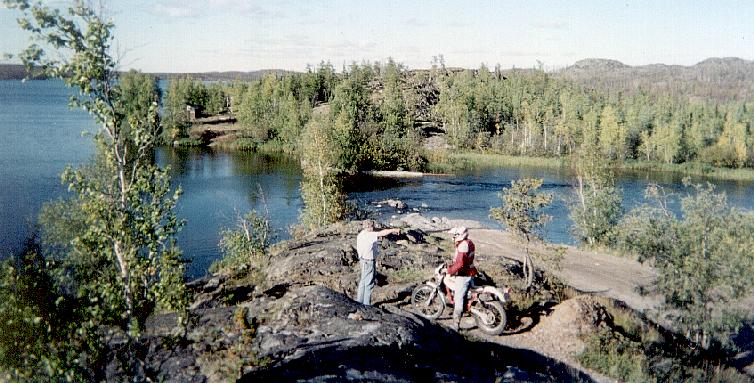 Wednesday August 21 (Day #8)
A very long driving day from Yellowknife ends with an after-dinner TSD through the Kansas-like rolling hills of the Peace River Region. With some lasting impressions of this northern farmland, we'll arrive in Grand Prairie after dark at the Trumpeter Motor Inn,
Thursday August 22 (Day #9)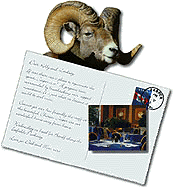 An early start from Grand Prairie, heading south to Jasper. The highlight of this trip is the new Bighorn Highway, a new paved route through some great scenic, remote, and empty country (the 1987 Alcan made it's way northbound here through 150 miles of mud and gravel).
The event will finish at the beautiful Royal Canadian Lodge (formerly Chateau Jasper) about 2pm local time, with an afternoon to catch some local shopping and sights before the 8pm awards banquet. A few rooms are available for additional nights ar reasonable cost.
---