- 1996 Alcan scores & Herald stories -
---
Isuzu wins Alcan Winter Rally again, Bravadas 1,2 in their class
ANCHORAGE: The 1996 Alcan Winter Rally finished here March 2, going as scheduled except for the last section to Prudhoe Bay that was canceled due to a severe storm on the Dalton Highway. Most teams did press north as far as the Arctic Circle and took photos there as a consolation prize.

The 1996 event proved very competitive. The lead changed hands at least 3 times, and other positions frequently. The team of Johnny Unser, Paul Dallenbach and Tom Grimshaw repeated their 1994 win, with a second veteran Isuzu team just behind. Finishing in 3rd and 7th place, a team of stock Olds Bravadas led by Andy Bornhop and Doug Kott also dominated Class III.

As intended this event placed a value on planning, judgement, driving, equipment, and broad experience more than just TSD rallying, and some teams placed very well with little rallying background. Other very experienced teams simply had bad luck: Tim & Penny Paterson led the rally for 4 1/2 days before rolling their Tahoe near Tok, Alaska. They received the "Press on Regardless" award for finishing, but had to settle for 6th place. Ron Clyborne and Michelle Anderson took a 200 point penalty on day #2 when they missed a TSD section after having two flat tires at the Gold Pan Raceway competition - without those points the team would have placed second overall.

The Alcan Winter Rally is now repeated every 4 years, alternating with a summer Alcan 5000 Rally. The 1998 Alcan 5000 will start in Seattle on Saturday August 29 and finish in Jasper, Alberta September 5. This will also be an official Klondike Gold Rush Centennial event, and will focus on the Yukon Territory and it's history. The 1998 route will include an Inside Passage ferry trip on the way north, landing in Skagway, Alaska to follow the Klondike Highway to Dawson City.

The 2000 Alcan Winter Rally will start in Seattle on Friday February 25 and finish in Anchorage Saturday March 4. The event will be one day longer than 1996, and WILL include an overnight stop in Prudhoe Bay.
Final 1996 results, Anchorage
OVERALL:
Place Score Car # Vehicle Team 1 119.0 1 Rodeo Unser/Dallenbach/Grimshaw 2 173.1 8 Rodeo Corser/Bartlett/Jones 3 196.0 4 Bravada Bornhop/Kott 4 271.4 7 Montero FitzGerald/FitzGerald/Johnson 5 357.4 3 Quattro Clyborne/Anderson 6 406.4 2 Tahoe Paterson/Paterson 7 425.3 10 Bravada Elder/Elder/Fouse 8 499.2 9 F150 Leonard/Turley/Kruse 9 626.0 11 Camry Fuhrman/Wright 10 769.0 5 Land Rover Lowry/Street/Birks TOP FINISHERS IN EACH CLASS:

Class I (Car, SOP equipment) 1 3 Audi Quattro Clyborne/Anderson Class II (Sport Utility, unlimited equipment) 1 1 Isuzu Rodeo Unser/Dallenbach/Grimshaw 2 8 Isuzu Rodeo Corser/Bartlett/Jones Class III (Sport Utility, SOP equipment) 1 4 Olds Bravada Bornhop/Kott 2 10 Olds Bravada Elder/Elder/Fouse ICE RACING SECTION WINNERS (these teams won at all 3 venues): Studded Tire Class # 1 Isuzu Rodeo Unser/Dallenbach (BFGoodrich Trak-edge) Non-studded Tire Class # 4 Olds Bravada Bornhop/Kott (Goodyear Wrangler Aqua-tread)
---
Photos from 1996 (jpg files, about 50k...)
"Rover at the races". Mary Lowry ready to start a run at Quesnel's Gold Pan Speedway, Sunday morning Feb 25. Cannon digital camera photo by Santa Fe entrant Ray Leonard.

"Rodeo at Mile 0". 1994 & 1996 winners Johnny Unser, Paul Dallenbach, and Tom Grimshaw. Taken 5pm Sunday Feb 25 at the start of the Alaska Highway in Dawson Creek. Digital photo by Ray Leonard.
---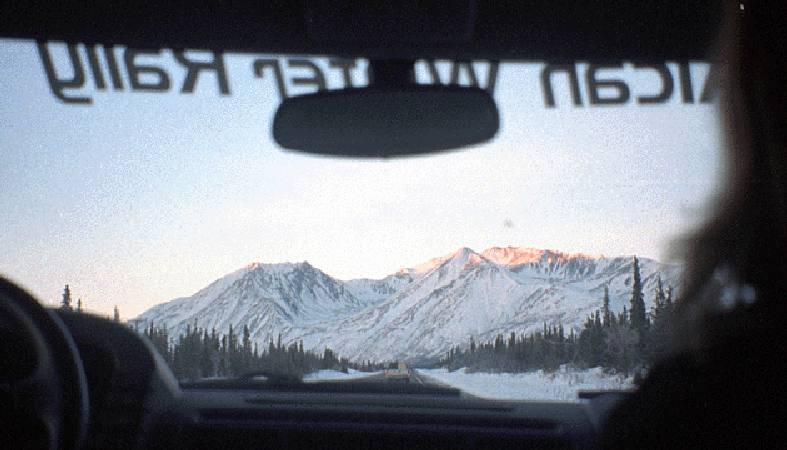 The Land Rover Discovery team heads through Denali National Park toward Anchorage
PERSONAL VICTORIES
Alcan rally rookies live to tell about it
By SALLY BIRKS, Herald Writer (From the Everett Herald, Sunday March 17)
---
Press on regardless.
That's the road rally mantra and one instruction that The Herald's rookie team learned well last week as we finished the Alcan Winter Rally, an endurance driving event from Seattle to Anchorage.
Press on when the roads are covered with glare ice and the snowplow drivers are telling you to turn back. Press on (without your headlights) when an electrical system glitch threatens to shut you down. Patch it up and press on when you lose it on an icy turn and roll over 1 1/2times. Press on when you're tired beyond belief, haven't eaten anything hot for four days and you're in 10th place anyway.
Press on even when team members hit the wall and bail out in the middle of nowhere. Now we know what the "sweep" vehicle is for.
The Alcan 5000, billed as "the world's longest, coldest winter rally," is grand adventure: exciting, challenging, scary and great fun. Imagine riding a rickety roller coaster at lickety-split speeds over and over and over again. The expert car handlers (not us) were flying over icy mountain roads at 70+ mph. confident that one wheel on semi-clear pavement and ABS would keep them on the road.
Team leader Mary Lowry, The Herald's Woman Driver columnist, and I were prepared for most aspects of this grueling trip. Our vehicle, a Land Rover Discovery tricked out for extreme cold with an engine block heater, studded tires, and rally and fog lights, performed like the Energizer bunny. We carried antifreeze for the fuel tank, antifreeze for the cooling system, antifreeze for the windshield washer.
We packed enough fleece, down and polypro for an Everest expedition. After a few days on the road, we learned to judge the weather and dress accordingly: Either wear ALL the clothes we brought or only half.
We soon found the real challenge was not the extreme cold outside but the brewing nuclear meltdown in the car. I think we discovered a new way to achieve cold fusion. The lesson here? Make sure all team members have the same goal in mind. It also helps if you know each other before being seat-belted together for 18-hour stretches on a 5,000-mile road trip.
The rookies just wanted to finish ... in one piece. Experienced rally driver Susan Fouse (we like to call her our "first" driver) thought we could actually grasp the math involved and become expert navigators. Hey, we're WORD people.
It doesn't seem fair anyway. The top-class drivers who led the field all the way have onboard rally computers to calculate exact mileage and speed at any given second. Those in our class (seat of the pants) must rely on pencil, paper and the ability to do more than 200 computations on the fly for each scored TSD (time-speed-distance) section.
So, three days into the event, where the Alaska Highway zigzags back and forth over the British Columbia-Yukon border, our team detonated. Susan hitched a ride with other rally cars until she found a more compatible home in Car No. 10. Mary and I pressed on ... regardless AND alone ... to the next stop in Whitehorse, Yukon.
Since we were newcomers to the world of car rallying, we didn't know what fate awaited us there. Would we be expelled from the rally? Would we fall hopelessly behind? Would we get dinner? This is where we learned another side to this against-all-odds sport. The camaraderie and concern shown by other teams convinced us to continue down the road. Despite the competition, we were all in this together. Conversations at the gas pump showed us we weren't the only car with personality conflicts impeding teamwork. It's even got a name: "rally mad."
Mary stepped up to the challenge and got us through the next day's adventures in Whitehorse. She drove the TSD route over winding, snowy back roads; extricated the Rover from the snowmobile path I had navigated us into; and did a solo ice-track event on the frozen Yukon River.
Rally officials suggested sweep driver John Street join our team because the toughest part of the trip still lay ahead: First the all-day all-nighter from Dawson City to Fairbanks, and then the long haul up Dalton Highway to the Arctic Circle and on to Prudhoe Bay. We were glad to have the help. Unfortunately, even John's expertise behind the wheel couldn't dig us out of our firm hold on last place.
The scenery whizzing by was building from spectacular to indescribable. Mountain range after mountain range loomed on the horizon and disappeared in our rearview mirror. The Alaska Highway plows through the heart of the Canadian Rockies; skirts the Wrangell-St. Elias peaks, most of which are higher than Mount Rainier; and edges the 75-mile Kluane Lake, now a frozen tundra, before winding upwards to the U.S. Canadian border at Beaver Creek.
I can't say I recommend road rallying if you like to stop and smell the glacier lilies. It's like watching a travel video on fast forward. Mary and I had to do our critter count between blinks. We did spot some caribou, ptarmigans, eagles and an Arctic fox. And, on our last day in Alaska, a few elusive moose.
The Alcan is an endurance rally, not a race, so why the speed? The event is paced off in summer months when the roads are clear, and the time allowed for transits between stopovers is based on fair-weather speed limits. Driving skill counts here. Scoring takes place only in the special TSD (time-speed-distance) sections set up at various places along the route. Starting on time is the first priority. If you're not there, you can't start.
All 10 cars in this year's rally were there at start and finish. Judging from past years' tales of broken manifolds, burned valves, frozen blocks and multiple rollovers, Alcan 1996 was a breeze. There was one rollover, Tim and Penny Paterson who had been in first place, spun off the road near Tok, Alaska. Luckily, no one was hurt. To the amazement of the rally rookies, the PRO Rally veterans patched up their Chevrolet Tahoe with Plexiglas and plywood, and rejoined the race in Fairbanks, finally placing sixth overall despite the loss of their homemade rally computer.
The press-on-regardless spirit kept all the teams on the road, especially as we attempted the run to Prudhoe. Strangely enough, it wasn't extreme cold that caused the worst driving problems as we neared the Arctic Circle; it was a slight "warming trend." Temperatures hovered in the 20- to 30-degree range, warm enough to snow, freeze, melt, freeze and snow some more. As the white stuff piled up and we tried to forge ahead, up and down 13-percent grades, the leaders of the pack sent back word on the radios: Turn back. Road impassable. Trucks jack-knifed. Snowplows can't get through.
But no one wanted to turn around. For one thing, it was almost impossible to find a spot to turn; and what we had just come through was pretty scary. The thought of going back through it seemed more daunting than to push ahead. John stayed behind the Land Rover's wheel all the way, dubbing it "the goat" for the sure-footed way it took the icy hills.
Led by the two Isuzu Rodeos with professional rallyists Johnny Unser, Paul Dallenbach and Tom Grimshaw, the caravan rolled on, buoyed by the arrival of a snowplow to clear the way. In nine hours, we had covered the 181 miles to the Arctic Circle. By now it was merely raining. After everyone had jockeyed their cars into position for the stock Arctic Circle sign photos, we abandoned plans to make it to Prudhoe and headed back to Fairbanks.
The aborted trip to Prudhoe gave us a day's layover in Fairbanks to refocus our eyes (it's called "the thousand-yard stare"), eat something besides peanut butter on Wheat Thins and to wash what one driver called our lanky "jail hair," much more serious than "hat hair."
Day Eight dawned early and the almost 500 miles left to the Anchorage finish seemed like a snap. Our good weather karma continued and we even had time for breakfast as the sun peeked over Mount McKinley (or Denali, if you prefer). By noon, we arrived at Big Lake near Wasilla for one last point-shaving event (low scores win): an ice slalom. John drove the Rover with skill, placing fourth in the solo, but it wasn't enough to lift us out of our 10th-place rut.
We had one glimmer of a possible break as we passed another team, apparently lost and arguing, on the final scored event 25 miles from the finish. We heard radio chatter that another car was pulled over by the local gendarmes. Hmmm ... how many points if you land in jail?
We cruised on in to Anchorage's Regal Alaskan and the awards banquet to pick up our hard-earned, 10-place "finishers award." There were no surprises in the final lineup. The big guys walked away with the top class, first-place prizes. The privateers were proud of their own personal victories.
The rookies were glad just to finish ... alive.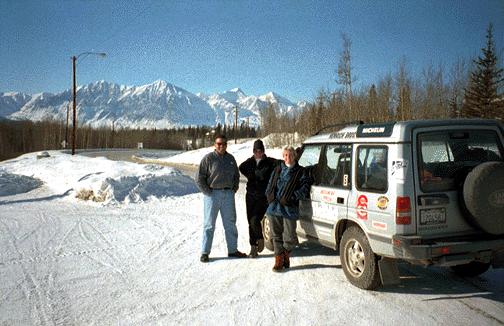 Alcan rallyists John Street, Mary Lowry and Sally Birks stretch their legs in the Yukon.
---
Daily reports, courtesy of The Herald - Everett, Washington
By SALLY BIRKS . . . . Send comments to sports@heraldnet.com
---
March 2
ANCHORAGE - We're here - 3,863.5 miles in seven days.
We had a tough time staying on track and focused today because the passing parade of mountain peaks kept calling for the cameras.
We were clipping along through Denali National Park early this morning surrounded by snow-covered peaks turned pink and gold by the rising sun. We finally saw a few moose having breakfast 100 yards off the highway.
But back to the rally: The Disco crew turned in a respectable time on the first event of the day, an ice track race on Big Lake near Wasilla. Driver John Street pulled off a fourth-place finish there and the Land Rover pulled out an Olds Bravada that was stuffed into a snowbank. We have it on film.
After the final timed TSD course outside of Wasilla, we gratefully headed for Anchorage and the finish line: showers, food, a little horizontal time.
Here's the final standings:
1st-Isuzu Rodeo (Car No. 1);
2nd-Isuzu Rodeo (No. 8);
3rd-Oldsmobile Bravada (No. 4);
4th-Mitsubishi Montero (No. 7);
5th-Audi Quattro (No. 3);
6th-Chevrolet Tahoe (No. 2);
7th-Olds Bravada (No. 10);
8th-Ford F150 (No. 9);
9th-Toyota Camry (No. 11);
10th-Land Rover Discovery (No. 5).
It was an exciting, learning experience. Too much to tell in five paragraphs. Too tired to do more, but we'll be back.
---
March 1
FAIRBANKS - Friday was a down day for the rally rookies. Because of the canceled run to Prudhoe Bay, we hung out in Fairbanks, goofed around on a nearby ice track, replenished our road food, washed our "jail hair" and capped the day with a TSD (time-speed-distance) route.
Scores aren't in yet, but we feel pretty good about the run. John Street has joined our "Disco 5" team (short for Discovery) and drove the icy route - and I mean solid ice - going just a little faster than the locals, through an outlying semi-residential area. You know, kids, dogs, snowmobiles and Friday night traffic. Team leader Mary Lowry did the times and I navigated (not too tough it was a loop).
The Patersons, who had been leading until two days ago when they rolled their Chevy Tahoe near Tok, Alaska, caught up to the crowd here with plywood and Plexiglas repairs. Tim was patching up his homemade rally computer until minutes before the start time while Penny got out the pencil and paper. Welcome to SOP (seat of the pants). We'll know Saturday whether they can edge out the Isuzus who are planted now in first and second.
Today we shove off for Anchorage at 06:00 hours, stop for another ice track run near Wasilla and check out the Iditarod headquarters there. The dog sled race officially begins in Anchorage Saturday and we may see some of the action. Then we cruise on in to Anchorage for the rally finish.
Press on regardless.
---
February 29
FAIRBANKS - There is only one way to describe today's adventure. To quote Mary Lowry, "It was hair ball" all the way.
After an 18-hour drive to Fairbanks and two hours' sleep, we began the climb up the infamous Dalton Highway (fondly called the Haul Road, because that's all they do there) on our way to Prudhoe Bay, past the Arctic Circle.
This is were the hair ball part comes in: ice, snow, fog, rain, sleet, whiteout, slush, black ice, individually and all at once.
The road winded up and down for more than 250 miles, hung on the side of the white Indicott Mountain, with grade as much as 13 percent. Fun, huh?
Our nine-car caravan forged on with rally master Jerry Hines trapped somewhere between a jack-knifed truck and the unplowed part of the road. Some turned back; others including the intrepid Land Rover, with rally official John Street, pushed ahead.
Radios buzzed with reports; semi overturned, no passage to Prudhoe, go back while you still can.
After nine hours we managed to cover 181 miles to the Arctic Circle (just a sign) "for a photo-op."
The journey all the way to Prudhoe was out. No Arctic Ocean today. No overnight in Deadhorse (darn).
Then all we had to do was drive back down, with the gas gauge edging lower and the nearest station halfway to Fairbanks.
I guess this is why they call it an endurance rally.
But, hey, we did get to the Arctic Circle.
No score today, this was a fun side trip. So we still hold our position: ninth and climbing. I bet Tom Grimshaw and the Izuzu Killer Bees are really worried.
And we couldn't see any wildlife either. I don't know about Mary, but I was under the tarp in the back seat.
---
February 28
TOK, Alaska - We were having a great day on our 18-hour marathon from Dawson City on through to Fairbanks when one of the cars rolled. It was the lead vehicle, driven by Penny Paterson, who is on the Chevrolet Tahoe team along with her husband, Tim.
They skidded on ice and rolled 1-1/2 times down an embankment. No one was hurt, and rally master Jerry Hines said they have two days to fix the car and finish the rally.
Other than that, it was a gorgeous drive, through some of the most scenic areas along the Alcan.
The good news is that Mary Lowry and I have moved up to ninth place.
Remember that snowmobile route Tuesday? We actually picked up points to move us up in the roster. Rally on.
We'll try to wrap up this 1,400-mile leg of the trip when we arrive at Prudhoe Bay this afternoon.
On Friday, the teams will travel 400 miles back to Fairbanks, where we'll rest overnight for Saturday's final push to the finish in Anchorage.
---
February 27
Team leader Mary Lowry is now lead driver. I think I've been promoted to navigator AND snacks. We did our first solo TSD (Time Speed Distance). We were doing great, hitting all our marks, until we were looking for a "T" intersection. We came instead to a "Y". The great navigator said "they must have meant "Y", take a right." We found ourselves plowing down a snowmobile path and promptly got stuck up to our hubs. Mary's skillful "rocking" got us out, but not before visions of the Donner Party flashed before us.
The next flogging came at the ice track. Mario Lowry had a little dust stop: She did a neeto 180. She briefly considered driving back to the start, but instead managed to turn around in the luge-like track. We only lost 10 points.
Then we headed off to Dawson City, Yukon, a Klondike replica town. We leave at 6 a.m. to begin the push to Prudhoe.
Wildlife score for the day: two ptarmigans in full winter plumage and a large fox that looked like a big husky. Maybe it was.
---
February 25
Sunday was a day we experienced sheer speed on sheer ice, Mile 0 of the Alaska Highway and a faulty door latch as we covered 510 miles of British Columbia terrain between Quesnel and Fort Nelson.
Mary Lowry and Susan Fouse took turns pushing the Land Rover as fast as it could go in the Quesnel Ice Slalom around snow-covered Gold Pan Raceway, an oval track normally used for summer stock car racing.
Results of the ice slalom weren't available Sunday night, but the fact we continued on toward Fort Nelson with a vehicle running and looking as fresh as the day the rally started should stand as some measure of success.
Well, all wasn't entirely well with the Land Rover. The passenger-side door won't latch all the way in the freezing temperatures, and we motored northward with it rattling in our ears.
The rest of the day brought two time-speed-distance trials in which the team must cover pre-determined distances at pre-determined speeds. Results of our performance Sunday hadn't been tallied, but we began the day in sixth place out of 11 vehicles.
Today, the rally will cover 850 miles from Fort Nelson to Whitehorse, B.C., as the rally heads into the highest and most rugged part of the Alaska Highway.
Standings after 2 days are:
Score   Car #   Vehicle         Team                    

112.0     1     Rodeo       Unser/Dallenbach/Grimshaw
 28.0     2     Tahoe       Paterson/Paterson
261.8     3     Quattro     Clyborne/Anderson
 92.0     4     Bravada     Bornhop/Kott
385.0     5     L Rover     Lowry/Fouse/Birks
 DNF      6     Pathfinder  Hawley/Hawley/Heisfield
258.6     7     Montero     FitzGerald/FitzGerald/Johnson
 54.1     8     Rodeo       Corser/Bartlett/Jones
319.2     9     F150        Leonard/Turley/Kruse
312.4    10     Bravada     Elder/Elder/Christian
268.2    11     Camry       Fuhrman/Wright
---
February 24
Greetings from Quesnel:
Only 532 miles, give or take a .10, from the Kirkland start.
We were up bright and early -- 6:09 a.m. was alarm time -- after a solid four hours sleep, and were elated to see that the gearheads were NOT out checking their cars, er, vehicles already.
The first COD (crisis of the day) was the weenie toothbrush I brought to save space. Something to be corrected if we ever see civilzation again.
With our watches set to "rally time" and our stopwatches zeroed out, we pulled out of the parking lot under the checkered flag to begin the first leg ... the odometer check. And we saw our first snow ... at the Snohomish County line.
This was really a day of firsts for Woman Driver Mary Lowry and me. (My day job is as a mild-mannered copy editor.) Mary did her first stint as a rally navigator and I may be onto a new career as CPA. I did more computations today than the IRS.
BUT, wonder of wonders, we sailed through the odo check right on time, survived our first TSD (time-speed-distance ... the part that really counts) and were NOT searched at the border crossing.
Mary says the scenery north of Sumas and winding through the Canadian Cascades was breathtaking. (I was still doing computations in the back seat.)
We settled into a long transit period (sort of just driving to actually get there) and Mary managed to wrestle the wheel away from lead driver Susan Fouse, who did a yeoman's job behind the wheel, following the directions of two misguided rookies. Mary lived up to her title as The Herald's Woman Driver, bringing us in to the McDonald's in Williams Lake, B.C, on time and error free.
One more TSD (much better this time, thank you) and here we are in minus 3 B.C.
This just in: We beat rally pros Tom Grimshaw et al in the last TSD. We're flying high tonight.
Hope to have some actual results in the morning, so maybe tomorrow's report will be more telling.
Hey, it's COLD here.
---
February 22
It sounds like the perfect adventure: Travel, excitement, speed, exhilarating scenery, challenging the elements and throw in a little derring-do too.
Yes, when The Herald's Woman Driver, Mary Lowry, asked me to join her on an all-woman team in the 1996 Alcan Winter Rally, an endurance car race from the Seattle area to Anchorage, I jumped in with both feet. I thought the biggest physical challenge would be sitting for 12 hours a day (hence the name AlCAN), typing on a laptop computer.
But that was before I read about the dog food.
It wasn't until then that I realized we will be driving the Alaska Highway in the coldest, darkest time of year, through the Yukon and farther north, all the way to Prudhoe Bay, more than 6,000 miles. The temperatures will hover somewhere between minus 20 and minus 60. Not a good place for a flat tire.
Some Arctic excursion experts recommend taking dog food as survival vittles because we certainly won't eat it unless we are starving. Trail mix with little M&M's will probably disappear before we get to the Canadian border.
This Alcan Winter Rally will be the first to travel Dalton Highway to Prudhoe. This is the 12th Alcan rally and the fifth annual winter event. The eight-day adventure is organized by Rainier Auto Sports Club Inc., whose chairman, Jerry Hines, has rallied since 1965 and has been a key organizer for more than 30 national and international rallies.
Luckily for us nongearheads, the third member of our team and lead driver, Susan Fouse, is an experienced Alcaner. This will be her fourth winter rally and she's done almost all the other rallies since 1983. Fouse now lives in Blaine but was an ice racing champion in Alaska. She won in her class in the Fur Rendezvous Grand Prix in Anchorage and also won teamed with her husband.
Mary, our team leader, of course, brings lots of auto expertise to the crew. She's been test driving and writing about cars for The Herald for three years and is president of the Northwest Automotive Press Association. In special preparation for the rally, she took the Pitarresi Driving School skid control course at Portland International Raceway.
I think I'll let them do all the driving.
MY major qualification for this trip? I'm from Detroit. You know, the Motor City. It's cold and snowy there in the winter. I had my first (and only, I might add) accident skidding on ice. That's why I'm official team scribe. I think I'm in charge of snacks too.
We're driving a Land Rover Discovery that's been outfitted for the extreme temperatures: Michelin studded snow tires, an Optima double-size battery, Red Line synthetic oil and gear and differential lube, and Hella high-power auxiliary driving lights. Our experienced lead driver also added a navigation light for nighttime calculations.
The trusty Rover will nose up to the starting line in Kirkland Saturday with 11 other snow-tired, winterized cars, most of them sport utility vehicles: two Isuzu Rodeos, an Audi 5000 Quatro, an Audi 80, two Oldsmobile Bravadas, a Chevrolet Tahoe, a Mitsubishi Montero, a Ford F150 and a Toyota Camry AWD (all-wheel drive).
The field (I'm practicing the lingo) boasts such national car-racing names as 1994 Alcan winners Johnny Unser, Paul Dallenbach and Tom Grimshaw (a two-time winner). Tim and Penny Paterson, also winners in years past, are from Redmond. Other entrants from our area include Ron Clyborne and Michelle Andersen of Edmonds; and father-daughter team Gerald and Kim Hawley, of Redmond.
The Alcan is based on the concept of rallying as a "grand tour, motoring adventure" like the Monte Carlo and the Baja 1000, according to the sports club. More than 90 percent of the route is composed of touring sections. Scoring takes place in 10- to 20-mile TSDs (time-speed-distance) sections, and in short solo courses on snow or ice, where the fastest time wins.
There are five classes in the rally:
Class I is limited to passenger cars with unlimited navigational equipment and on-board computers.
Class II includes trucks and sport utility vehicles, unlimited equipment as above.
Class III includes any type vehicle, SOP (seat of pants), which means no special equipment. Includes original equipment odometers.
Class IV includes two-wheel-drive vehicles with unlimited navigational equipment and computers.
Class T (for touring) vehicles will not be scored in the solo or TSD sections but will complete the same route as other teams. Class T stresses safety and will include four-wheel-drive vehicles only.
Officially, our team is entered in Class III: a four-wheel-drive vehicle with pencil, paper and two foolhardy journalists on board. I can't speak for my teammates, but I'm pretty sure I have all my original equipment.

To prepare for the trip, Mary and I have been getting up early, staying up late, eating our meals from vending machines at work, not taking restroom breaks and sitting in front of our computers for 10 hour stretches. Wait, that's what we do anyway. I guess we're naturals.

The "moonscape" temperatures have sent us scurrying to sporting goods stores and begging friends for mass quantities of fleece and down. We're actually reading that fine print that rates clothing by degrees. Does anybody have a balaclava?

We'll be using The Herald to insulate our boots, but you can use it to follow along on our eight-day odyssey. We'll be filing our postcards from the slope every day (provided the keys on the laptop don't freeze), beginning with the meander through balmy Washington on Saturday to the big finish March 2 in Anchorage.

Besides the Dalton (that's the one in the Arctic Circle), there's another new highway added to this year's Alcan rally: the information highway. The rally has a World Wide Web site that includes information about the race, the entrants, vehicles and sponsors; a "virtual route" that describes our planned itinerary; and links to related sites such as the Auroral Activity Forecast, a Yukon photo library and daily weather updates.

To view the Alcan home page, set your browser to

http://www.eskimo.com/~jhines/